It's that time of year again and you can practically smell the trade rumors in the air. I'm not here to spread rumors, however I am here to talk you into the possibility of the Capitals acquiring a goaltender at the NHL Trade Deadline on April 12th.
Like most, I am a big fan of Ilya Samsonov and Vitek Vanecek but I can't pretend that the situation in net right now is ideal. The Capitals have a core that realistically has 2-3 more shots at another Stanley Cup and they are almost guaranteed to lose a key piece of that core this offseason in the NHL Expansion Draft. If I'm General Manager Brian MacLellan (I'm not) I'm not sure I want to place the playoff fate of this year's team on two rookie goalies in net. Samsonov has a small sample size of only 12 games due to missing time early in the season after testing positive for Covid-19, but in that sample size he has posted a very mediocre 0.1 GSAA. Vanecek has a much larger sample size of 24 games this season but boasts a slightly worse GSAA of -0.5.
Keep in mind, the pairing of Samsonov and Vanecek was never in the plans for the Capitals for this season. MacLellan signed veteran goaltender Henrik Lundqvist to a one-year deal in the offseason, but as you know he has been unavailable to the Capitals this season due to heart complications. We are all still wishing him nothing but the best. Samsonov is the goalie of the future for this team and his ceiling is that of a franchise goaltender but injuries have set him back a little bit and he could benefit from having a strong veteran goaltender on the roster.
I'll spare you the list of all the goalies who are potentially available and only highlight that ones that I think make the most sense for the Capitals. There's always the possibility that MacLellan goes off the rails and pulls off a substantial move to acquire a true No.1 goaltender but it seems highly unlikely.
Who is Available?
Jonathan Bernier, Detroit Red Wings
Bernier is the one goalie that is almost guaranteed to be moved at the deadline especially with a few teams in need of some help in the crease. Bernier carries a low AAV of just $3 million and is a UFA after this season. He's amazingly got a 5.1 GSAA despite facing one of the toughest workloads in the league thanks to the subpar play of the team in front of him. The Capitals will need to clear some cap space to acquire him, and in my opinion a second or third round pick plus a defenseman might be enough for Detroit to part with him and retain a bit of salary.
Bernier recently suffered an injury that has kept him out the past few games, but with some time to go until the deadline and the mandatory quarantine after a trade, he should be good to go down the stretch if the Capitals were to acquire him.
Chris Driedger, Florida Panthers
Spencer Knight, the 13th overall pick from the 2019 draft, just recently signed his entry-level deal with the Panthers. And with Sergei Bobrovsky on a very lucrative contract the Panthers may be looking to deal Driedger at the deadline. Driedger is the perfect fit for the Capitals salary cap wise with a very low AAV of just $850k, however he's a bit of a gamble having only started 26 games in his career. In those 26 games he's 16-6-3 and he has a GSAA of 8.4 this season.
He's not the veteran goalie that the Capitals may be looking for but he would potentially bring more consistency to the Capitals goal crease at a very cheap cost.
Darcy Kuemper, Arizona Coyotes
Of all the potentially available goalies Kuemper is arguably the best one, having earned himself Vezina votes in the last two seasons where he posted a GSAA of 25.1 and 16.7 respectively. There are some complications when it comes to acquiring him though. Kuemper suffered a lower body injury a few weeks ago and has not skated since. With a little under two weeks to go until the deadline, and the mandatory quarantine he would have to go through following a trade, it is possible that he could be skating again by that point.
He also carries an AAV of $4.5 million through 2021-2022, which is expensive and means the Capitals would have to get creative with how they acquire him. However if they did trade for him, the Capitals would potentially have two shots at another Cup with one of the best goalies over the last two seasons. With a core that's running out of time, it may be worth taking the risk here.
Joonas Korpisalo, Columbus Blue Jackets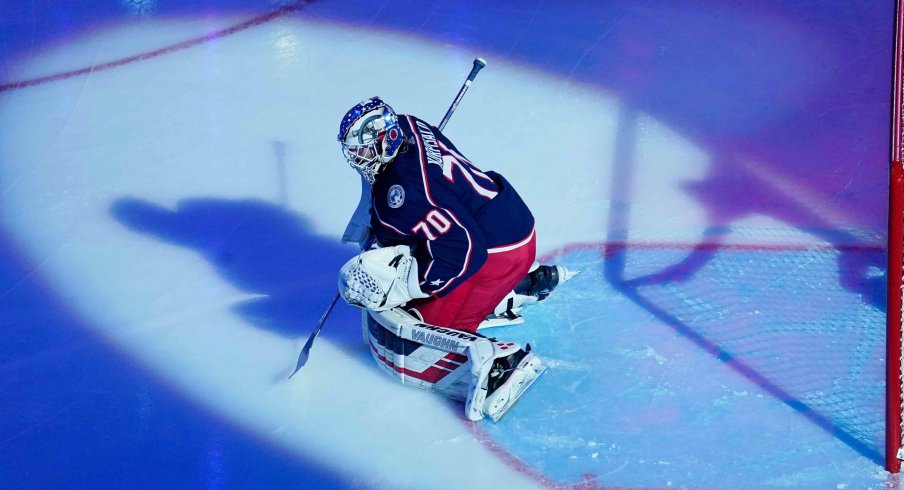 Here's a guy that Capitals fans should be familiar with. Korpisalo has had a mediocre season so far but that might not be entirely his fault. Columbus has been a defensive mess this season and it's caused their goalies to struggle. He has a very rough GSAA of -6.4 but a change of scenery may do him some good. He's had some dominant stretches in net, especially looking back at his performance in the bubble last season where he posted a GSAA of 7.7 which helped Columbus knock the Toronto Maple Leafs out in their best of five series.
It's been rumored that Columbus could be looking to deal one of their two goalies at the deadline this year. They have a lot more invested in Elvis Merzlikins who carries an AAV of $4 million compared to Korpisalo's AAV of $2.8 million. Simply put, the lower AAV and larger sample size makes Korpisalo a more attractive option out of the two for teams looking for a potential No.1 going into the playoffs.
So Which Goalie?
If the Capitals intend to start Samsonov in the playoffs and are simply looking to acquire a capable backup goalie they should stick to the current duo. Vanecek has been good this season and fits the backup/fringe starter role well and there's little sense in giving up assets for someone like Driedger who may only be a little bit of an improvement over Vanecek.
If the Capitals want to acquire a veteran goaltender to maybe take over as the No.1 come playoffs they should look at Kuemper. Bernier is a very attractive option given the season he's having on a bad team and the fact that he is purely a rental, but with an AAV of $3 million why not make a little more room for Kuemper's AAV of $4.5 million? The Capitals would need to get creative with the cap to pull this off, but given his numbers over the last two seasons he may be well worth the assets, especially if Arizona is willing to retain salary. Having another year on his contract would also give the Capitals two very solid runs at another Cup with this core.
Obviously his health is currently in question, but Samsonov and Vanecek are capable of holding down the fort until he's ready to go. I won't get into who I think could be going the other way in a hypothetical deal for Kuemper, but the Capitals do have a surplus of NHL caliber defensemen and defensive prospects. The Capitals also have 6 picks in this upcoming draft to use as trade chips as well. If there was ever a season to trade your picks this might be the one since Covid-19 has made it nearly impossible to properly scout and evaluate talent in this years draft.
Including tonight's matchup against the New Jersey Devils, the Capitals have only 6 games remaining until the deadline and Brian MacLellan may just wait until the 12th to make his move. Since taking over as General Manager, Maclellan has always made moves to address team needs and with goaltending being the only area of concern right now we could see him acquire a goaltender to help this core make another run at a Cup.